March is National Engineering Month-Canada's biggest celebration of engineering-and an opportunity to show young Canadians the exciting career opportunities that engineering has to offer. We are proud to employ engineers in Calgary, Ottawa and Halifax. We will be sharing employee profiles throughout the month to show you the challenges that our engineers face every day. Meet Calgary engineer Woochan Kwon.
---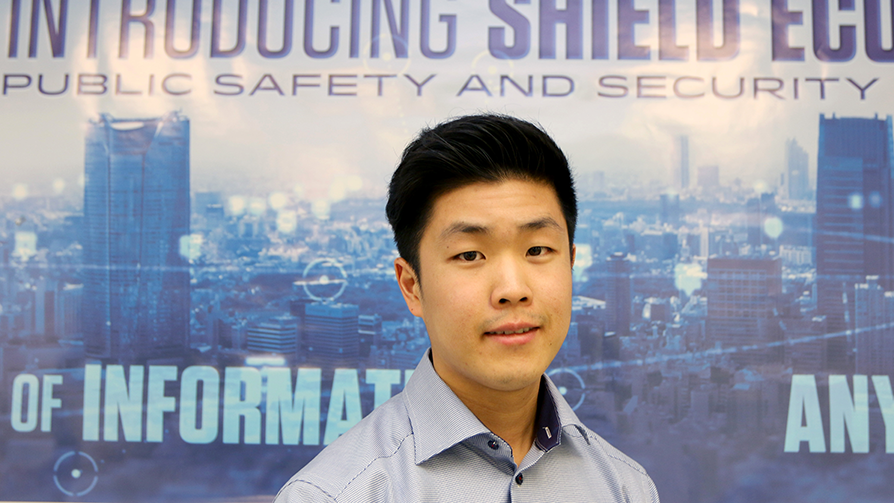 Woochan Kwon is tentative at the beginning of the conversation. "I don't really have an exciting story about how I became an engineer," he says. Then, later, seeming a bit surprised, "Yes, I'm the first engineer in my family; I guess I never thought of that." At another point, he rushes past a pivotal part of his journey with a 'to make a long story short' deflection. It is clear that he is not comfortable being the centre of attention. But his story is an interesting one, marked by coincidences and choices, and it starts, like so many of the best ones do, in a land far away.
Woochan was born in Korea and moved to Canada when he was just 11 years old. He and his close-knit family lived in the Lower Mainland area, outside of Vancouver. His Dad, now retired, was a business man who managed his own company. His Mom stayed home and took care of Woochan and his older brother. Woochan was very active in sports, playing soccer, rugby and basketball, and loved the outdoors.
He didn't grow up thinking he would be an engineer. Why would he? Remember, there were no engineers in the family. He credits high school guidance counsellors with helping to turn him towards a profession that would capitalize on his superior math and physics skills, his aptitude for problem solving, and his enjoyment of building things in woodworking and metalworking classes at school. His family was very supportive.
He chose to attend the University of Victoria, and complete a co-op program in electrical engineering - he had been accepted into engineering at Waterloo, but that felt like too far to go from friends and family. The choice to study at University of Victoria (UVic), with its four co-op terms, turned out to be an important turn in the road for Woochan.
Because UVic is a smaller school, not all courses are offered every term. In his fourth year, "almost by accident," because it was what was available and fit his schedule, Woochan ended up really focusing on communications systems. He found he loved it.
To complete his program, he had lined up a double co-op term, eight months with a mining company located in Williams Lake, in Northern British Columbia. Just before starting, to celebrate the completion of his coursework, he had planned a trip to Europe with a friend. They were waiting for their plane at the airport when he found out that the mining company was cancelling the co-op-not an ideal start to a holiday.
While he was away, he was contacted about a systems engineering position in Calgary that would capitalize on his fourth-year studies. He sent in an application using the spotty internet connection in the hostel in Greece, and had a phone interview the moment he landed back in Canada. He landed the job, too.
That job led in turn to his position as a systems engineer at General Dynamics Mission Systems-Canada, working on one of General Dynamics' new SHIELD ecosystem solutions the EmergencySHIELD. Woochan's work is to provide first responders with mission critical communications systems. His favourite part of job is interacting with responders, understanding their problems and providing solution that helps them better prepare for and accomplish their important missions. It is clear from his description of his interactions with the customers and his fellow employees that Woochan loves his job.
Were it not for the awkward scheduling issues at UVic and the last-minute cancellation of his co-op with the mining company, Woochan would not have obtained the job experience that landed him at General Dynamics.
"It's kind of weird how it worked out," he says. "Like it all was meant to be."