MESHnet Tactical Mobile Router 100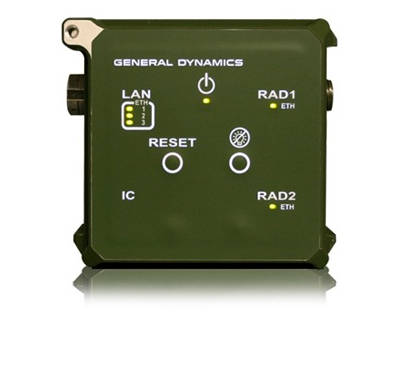 Core to Edge Networking
Modern "anywhere & anytime" connectivity has shaped the development of portable voice/data management & information sharing to expect high bandwidth, stable, static infrastructure.
Product Features
Tactical Mobile Router Audio — each unit offers an audio accessory port used to access platform intercom services.
Tactical Mobile Router Radio — each unit offers two radio ports supporting a wide range of tactical radio bearers.
Tactical Mobile Router Management — automation of Tactical Mobile Router functions results in virtual "fit & forget" capability, the minimal user configuration needed is accomplished via a simple web-based utility, accessible from any standard web browser application.
Link Analysis — evaluates links as desired, disadvantaged or disrupted, auto-selects the appropriate transport protocol based on path quality and delivers information by the most efficient means available.
Disruptive Tolerant Networking — information delivery "store and forward" mechanism eliminates the need for constant end-to-end connectivity. This is enhanced with a General Dynamics developed protocol that improves message delivery reliability & efficiency in high packet loss environments.
Low Bandwidth Routing Protocol (LBRP) — a General Dynamics developed, low overhead, routing protocol for moving data packets on low bandwidth radio links. Supports up to 2000 nodes in ad hoc mobile radio networks, and is compatible with standard routing protocols.
Benefits
Adapting capabilities to military, first responder, and industrial networks presents a unique challenge to customers whose users live and work "off the grid" from specialized platforms and in some of the world's most extreme and/or hostile environments. Deployed nodes are highly mobile, rely on a mix of communications bearers of varying bandwidth capability, and are subject to frequent disruptions such as signal fade, terrain obstruction, equipment loss, unintentional and intentional jamming.
The Tactical Mobile Router is an innovative solution developed specifically to evolve & enhance voice/data interactions for users demanding advanced capability, reliable information exchanges, and improved throughput in a qualified package that can survive harsh environments and punishing usage.
The Tactical Mobile Router is offered in a compact form factor for highly mobile platforms with restricted space, weight and power. Its chassis houses circuit card assemblies hosting the internal programming for functionality & services, and hardened connectors for interface to power, networks and bearers. The faceplate mounts controls & indicators to operate the unit & display status.
Specifications
| MESHnet® Tactical Mobile Router 100 Specifications | |
| --- | --- |
| Operating Temperature | -40ºC to +60ºC |
| Storage Temperature | -51ºC to +80ºC |
| MIL-STD-810F Compliant | Vibration, transit drop, salt fog, sand and dust, rain, fluid contamination, immersion, NBC decontamination, fungus, and altitude. |
Features

Product Features

Tactical Mobile Router Audio — each unit offers an audio accessory port used to access platform intercom services.
Tactical Mobile Router Radio — each unit offers two radio ports supporting a wide range of tactical radio bearers.
Tactical Mobile Router Management — automation of Tactical Mobile Router functions results in virtual "fit & forget" capability, the minimal user configuration needed is accomplished via a simple web-based utility, accessible from any standard web browser application.
Link Analysis — evaluates links as desired, disadvantaged or disrupted, auto-selects the appropriate transport protocol based on path quality and delivers information by the most efficient means available.
Disruptive Tolerant Networking — information delivery "store and forward" mechanism eliminates the need for constant end-to-end connectivity. This is enhanced with a General Dynamics developed protocol that improves message delivery reliability & efficiency in high packet loss environments.
Low Bandwidth Routing Protocol (LBRP) — a General Dynamics developed, low overhead, routing protocol for moving data packets on low bandwidth radio links. Supports up to 2000 nodes in ad hoc mobile radio networks, and is compatible with standard routing protocols.

Benefits

Benefits

Adapting capabilities to military, first responder, and industrial networks presents a unique challenge to customers whose users live and work "off the grid" from specialized platforms and in some of the world's most extreme and/or hostile environments. Deployed nodes are highly mobile, rely on a mix of communications bearers of varying bandwidth capability, and are subject to frequent disruptions such as signal fade, terrain obstruction, equipment loss, unintentional and intentional jamming.

The Tactical Mobile Router is an innovative solution developed specifically to evolve & enhance voice/data interactions for users demanding advanced capability, reliable information exchanges, and improved throughput in a qualified package that can survive harsh environments and punishing usage.

The Tactical Mobile Router is offered in a compact form factor for highly mobile platforms with restricted space, weight and power. Its chassis houses circuit card assemblies hosting the internal programming for functionality & services, and hardened connectors for interface to power, networks and bearers. The faceplate mounts controls & indicators to operate the unit & display status.

Specifications

Specifications

| MESHnet® Tactical Mobile Router 100 Specifications | |
| --- | --- |
| Operating Temperature | -40ºC to +60ºC |
| Storage Temperature | -51ºC to +80ºC |
| MIL-STD-810F Compliant | Vibration, transit drop, salt fog, sand and dust, rain, fluid contamination, immersion, NBC decontamination, fungus, and altitude. |
---