MESHnet Tactical Switch/Router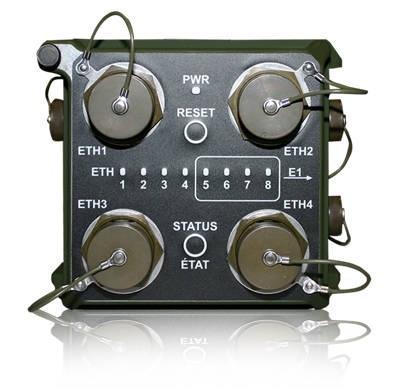 Platform Networking
Modern communications technology provides an ever increasing catalogue of portable capabilities to share & manage information. To keep pace with developments; military, first responder, and industrial customers must augment platform networking for users and roles that live and work "off the grid" under extreme conditions, and in a hardware package fitted to the limited space, weight and power needs of specialized, purpose built platforms.
Product Features
The Tactical Switch/Router chassis contains circuit card assemblies hosting the internal programming for functionality & management, a power connector, a maintenance port, and a single connection breakout port offering four (4) Ethernet interfaces. The faceplate mounts four (4) RJ45 device/network jacks offering connectivity and Power over Ethernet (PoE), and the controls & indicators to operate the unit & display status.
Common internal programming includes device configuration via an embedded web-based console accessible via any standard web browser and Network Addressing Translation (NAT) providing basic intrusion protection.
Benefits
The Tactical Switch/Router is a simplified solution to expansion, extension and protection of Ethernet networks suited to a diverse range requirements housed in a qualified military specification package designed to survive harsh environments and punishing usage.
The Tactical Switch/Router offers three models to support user needs ranging in complexity from simple requirements such as adding Ethernet peripheral connections to more complex support such as intrusion defence, network segregation, firewalling, and interception, site-blocking and anti-virus protection.
Tactical Switch/Router installations can be scaled to any role. These include single hub or multiple-unit backbone fits for command and operations centres. In addition to vehicle installations, the Tactical Switch/Router can be installed in temporary or permanent field shelters/buildings.
Specifications
| MESHnet® Tactical Switch/Router Specifications | |
| --- | --- |
| Operating Temperature | -40ºC to +60ºC |
| Storage Temperature | -51ºC to +80ºC |
| MIL-STD-810F Compliant | Vibration, transit drop, salt fog, sand and dust, rain, fluid contamination, immersion, NBC decontamination, fungus, and altitude |
Features

Product Features

The Tactical Switch/Router chassis contains circuit card assemblies hosting the internal programming for functionality & management, a power connector, a maintenance port, and a single connection breakout port offering four (4) Ethernet interfaces. The faceplate mounts four (4) RJ45 device/network jacks offering connectivity and Power over Ethernet (PoE), and the controls & indicators to operate the unit & display status.

Common internal programming includes device configuration via an embedded web-based console accessible via any standard web browser and Network Addressing Translation (NAT) providing basic intrusion protection.

Benefits

Benefits

The Tactical Switch/Router is a simplified solution to expansion, extension and protection of Ethernet networks suited to a diverse range requirements housed in a qualified military specification package designed to survive harsh environments and punishing usage.

The Tactical Switch/Router offers three models to support user needs ranging in complexity from simple requirements such as adding Ethernet peripheral connections to more complex support such as intrusion defence, network segregation, firewalling, and interception, site-blocking and anti-virus protection.

Tactical Switch/Router installations can be scaled to any role. These include single hub or multiple-unit backbone fits for command and operations centres. In addition to vehicle installations, the Tactical Switch/Router can be installed in temporary or permanent field shelters/buildings.

Specifications

Specifications

| MESHnet® Tactical Switch/Router Specifications | |
| --- | --- |
| Operating Temperature | -40ºC to +60ºC |
| Storage Temperature | -51ºC to +80ºC |
| MIL-STD-810F Compliant | Vibration, transit drop, salt fog, sand and dust, rain, fluid contamination, immersion, NBC decontamination, fungus, and altitude |
---