MESHnet Power Distribution Unit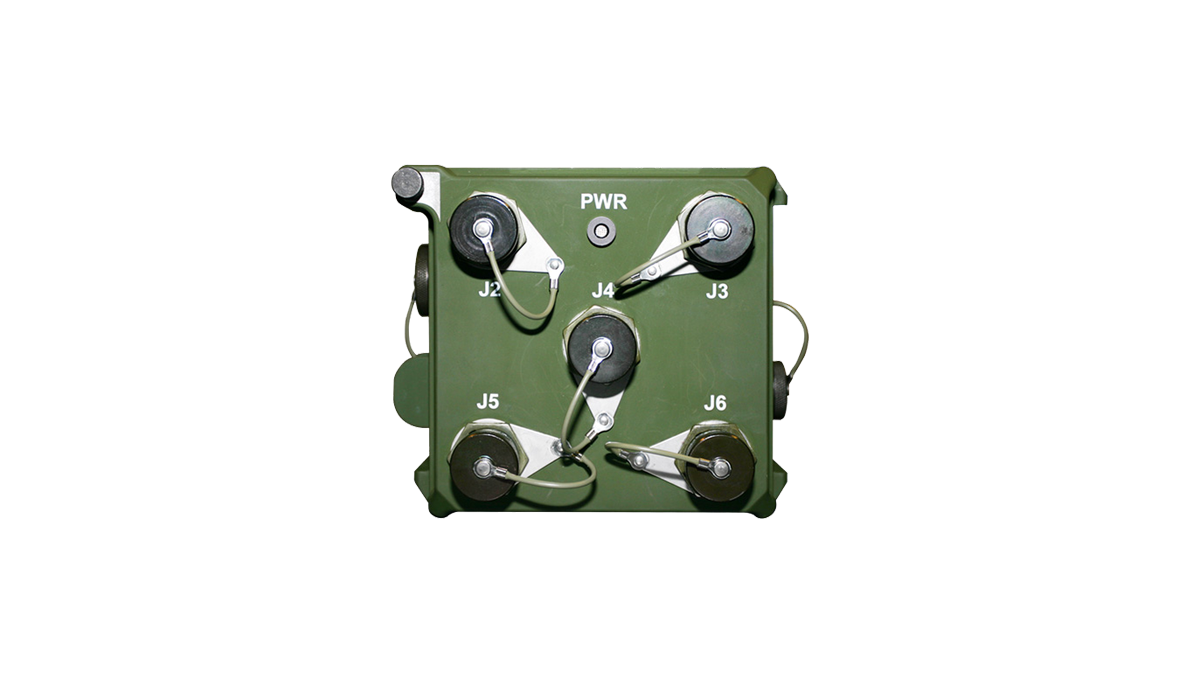 Core Power Management
Protecting the vital electronics of advanced communications technologies from electrical spikes and power surges induced by heavy duty, un-shielded, start/stop power systems, lightning, or electromagnetic pulse events is a must for military, first responder and industrial customers that live and work "off the grid".
Product Features
Qualified to Military Standard 1275B (MIL-STD-1275B) for power
Rated distribution is (up to) fifty amperes (50A) of twenty eight volts of direct current (28 VDC)
Offers over current protection, surge suppression and, reverse polarity protection (disables power if battery connections are reversed)
Small form factor lowers footprint saving valuable platform space
Benefits
The Power Distribution Unit - Small Form Factor® (PDU-SFF) is a right sized power management solution ensuring consistent and clean power distribution in a package designed and qualified to meet exacting military specifications for harsh environments and punishing usage.
The chassis houses a hardened power input, a combination breaker On/Off switch, and an outlet that can be fitted with an optional TEMPEST filter for applications where PDU-SFF powers sensitive communications systems & filtering is required to prevent the transfer of electronic information back onto the platform power grid.
The faceplate mounts five general purpose power outlets and an indicator displaying unit status.
PDU-SFF installations can be scaled to any role or power needs of fitted systems. Daisy chaining units allows expansion for complex platforms and applications.
Environmental Specifications
| MESHnet® Power Distribution Unit Specifications | |
| --- | --- |
| Operating Temperature | -40ºF to +145ºF (-40ºC to +63ºC) |
| Storage Temperature | -60ºF to +160ºF (-51ºC to +71ºC) |
| MIL-STD-810F Compliant | Vibration, transit drop, salt fog, sand & dust, rain, fluid contamination, immersion, NBC decontamination, fungus, and altitude |
Features

Product Features

Qualified to Military Standard 1275B (MIL-STD-1275B) for power
Rated distribution is (up to) fifty amperes (50A) of twenty eight volts of direct current (28 VDC)
Offers over current protection, surge suppression and, reverse polarity protection (disables power if battery connections are reversed)
Small form factor lowers footprint saving valuable platform space

Benefits

Benefits

The Power Distribution Unit - Small Form Factor® (PDU-SFF) is a right sized power management solution ensuring consistent and clean power distribution in a package designed and qualified to meet exacting military specifications for harsh environments and punishing usage.

The chassis houses a hardened power input, a combination breaker On/Off switch, and an outlet that can be fitted with an optional TEMPEST filter for applications where PDU-SFF powers sensitive communications systems & filtering is required to prevent the transfer of electronic information back onto the platform power grid.

The faceplate mounts five general purpose power outlets and an indicator displaying unit status.

PDU-SFF installations can be scaled to any role or power needs of fitted systems. Daisy chaining units allows expansion for complex platforms and applications.

Specifications

Environmental Specifications

| MESHnet® Power Distribution Unit Specifications | |
| --- | --- |
| Operating Temperature | -40ºF to +145ºF (-40ºC to +63ºC) |
| Storage Temperature | -60ºF to +160ºF (-51ºC to +71ºC) |
| MIL-STD-810F Compliant | Vibration, transit drop, salt fog, sand & dust, rain, fluid contamination, immersion, NBC decontamination, fungus, and altitude |
---