March is National Engineering Month-Canada's biggest celebration of engineering-and an opportunity to show young Canadians the exciting career opportunities that engineering has to offer. We are proud to employ engineers in Calgary, Ottawa and Halifax. We are sharing employee profiles throughout the month to show you the challenges that our engineers face every day. Meet Ottawa engineer, Sree Chakraborty.
---
Sree (pronounced Shree, "rhymes with tree") begins by saying, with liveliness and certainty, that she always knew that she would be an engineer. "I've always been fascinated by how things work, especially complex systems—a space shuttle, a satellite—so many pieces that have to fit together to make it work!" The passion to know is central to her personality. "When I don't understand something, I have to figure it out."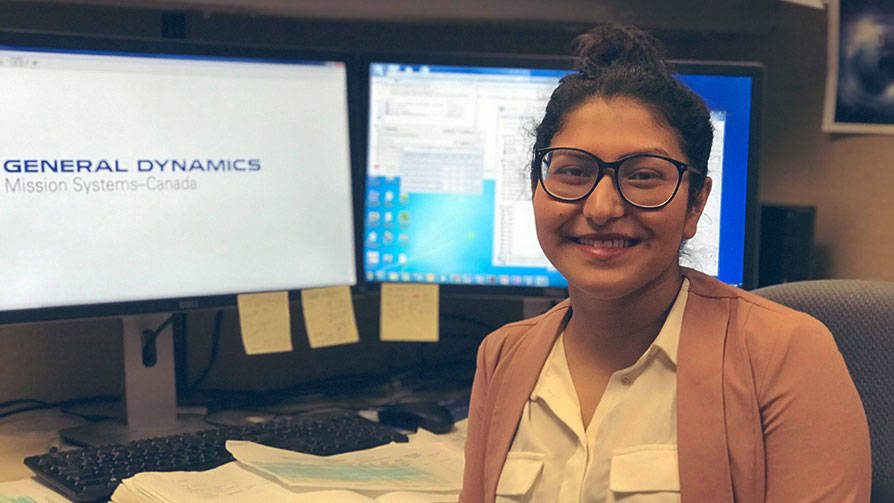 She credits her parents—Mom, a school principal, and Dad, an electrical engineer—with nurturing her curiosity and awakening her passion to learn. "My Dad used to work on airplanes for an airline in India, where I was born. When I was very young, he would take me with him on his travels and to his workplace—they were a bit lax on who could enter the hangar, I must say!" she laughs. "He would explain things as we went, little tidbits about how things work on the plane. I used to call them my 'Little Plane Stories.' He still does that kind of thing to this day," she says with warm affection, "even though I'm now an aerospace engineer myself, and I occasionally have to say, 'Well, actually, Dad, that's not how we do it anymore.'"
Sree came to Canada with her family when she was 10 years of age, after spending three years at boarding school in the United Kingdom. Because of differences in the curriculum, she was ahead in math, so much so that the school wanted to put her in Grade 6 instead of Grade 5. Sree and her parents resisted the idea, feeling that it would be easier for her to integrate socially with kids her own age. While she did end up being accelerated a few years later, she says the decision to stay in Grade 5 was the right one. "I loved my first few years in Canada! Being ahead gave me so much confidence. I felt a bit like a genius in the making," she says, with a wide smile. "Sadly that reversed when I ended up studying mechanical engineering with tons of really, really smart people at U of T," she adds wryly.
Sree graduated from University of Toronto in 2014, with a Bachelor's of Applied Science in Mechanical Engineering (specializing in Aero stream) and decided to take a year off to travel, volunteer and have a few adventures. She worked for a couple of months with Engineers without Borders and describes it as really eye-opening to work on finding engineering solutions to practical problems where the solutions are necessary to people's survival. She also did a stint at the NASA Jet Propulsion Laboratory that year ("Just a four-month internship thing, essentially to hold my professor's spot"), before the weight of her unpaid student loans pulled her back down to earth and the need to find paid employment.
It was July 2015, and, as luck would have it, General Dynamics Mission Systems–Canada was hiring for the beginning of the Aurora Program. Sree did her interview over the phone from Toronto. "I couldn't hear that well, so I kept nervously laughing; but I must have said some of the right things, because I did get the job."
When asked to describe her role in simple terms, she describes it as the bridge between the client's requirements and the company's engineering team "They say: 'I want this thing to be able to do' and a systems engineer translates that into design terms. It means you need to have a great appreciation for how the system works overall. One type of engineer knows one system or component well; another knows a different one. The systems engineer has to figure out how these two components would work if put together." She is currently working on the Block IV program, helping to integrate a data link system onto the Aurora plane. She loves working at General Dynamics. "The people here are fantastic, knowledgeable and flexible! GD as a company is very flexible – all about the quality of the work. And the work is exciting too. There is definitely a cool factor to it. I get to say 'Damn, I worked on that!'"
In her spare time, Sree still volunteers, currently with IEEE where she was recently on the Women in Engineering Board. "Part of my tenure on the Board was spent trying to get young women exposed to different STEM fields. A lot of existing outreach programs happen at the high school level—that's too late! So, we target elementary and middle school students, boys and girls, with an outreach program where engineers go out and talk to young children." [Does this sound like 'Little Plane Stories' for the next generation?] She has also been selected to be part of the UN Space Generation Advisory Council, a council entirely run by young people, aged 18-35, with a big focus on helping their counterparts in developing countries gain access to space research data. Impressive sounding pastimes, Sree is aware, but she is endearingly down to earth. "Please don't make me sound obnoxious," she says, laughing, "I also do plenty of normal things in my spare time—Netflix binging, hanging out in cafes with friends, sleeping," she laughs even harder as she adds "#sohumble."