March is National Engineering Month-Canada's biggest celebration of engineering-and an opportunity to show young Canadians the exciting career opportunities that engineering has to offer. We are proud to employ engineers in Calgary, Ottawa and Halifax. We will be sharing employee profiles throughout the month to show you the challenges that our engineers face every day. Meet Ottawa engineer Ivan D'Costa.
---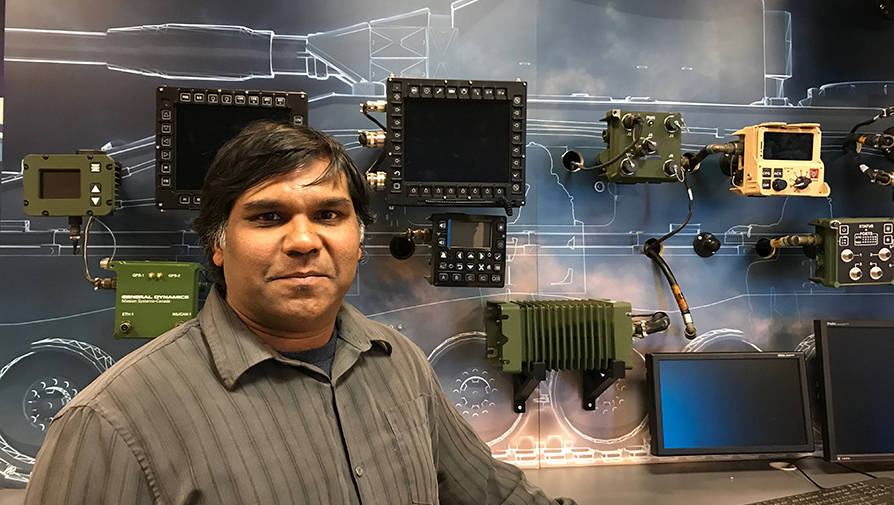 It would appear Ivan D'Costa knew he wanted to be an engineer before he even knew what an engineer was.
"When I was in university, I was sorting through things at my parents' place and I found this box from when I was a kid. Inside there was a project where I claimed I wanted to be a "space scientist" when I grew up. I had no idea what that was, but I just knew I liked space and science. It's interesting that I gravitated toward engineering," says Ivan.
While a curiosity for the world of science and technology was sparked at a young age, it was actually a "concrete toboggan" that solidified his choice to major in civil engineering at the University of Waterloo. Ivan was originally considering studying computer science, but while attending an information session at the university, he was intrigued by the work being done in the engineering labs. While the mechanical engineers were building a race car, the civil engineers were working on a concrete toboggan and he thought, "Wow! That seems pretty cool."
Eventually, in fourth year, Ivan got his "concrete toboggan moment" when his team traveled to Manitoba to compete. Following the rule that the running board be made of concrete, each year every single team in the competition would make a toboggan that looked exactly like a bobsled. But that year, one of the teams "put four little pads of concrete and the rest was all aluminum space frame and shaped like a dune buggy". Another moment of inspiration for Ivan: "When you see someone do something like that, you start thinking outside of the box."
Since graduating from university, Ivan has held a number of engineering jobs including a role modifying and repairing the federal government's aircraft and another which involved troubleshooting fiber optic networks in Canada's metropolitan areas. He also worked for a perimeter security company and is probably one of the only people you'll ever meet who can say they have been to "pretty much every federal prison in the country".
As a project manager, Ivan wasn't afraid to get his hands dirty. If they were two or three people working on a project that required four, he would step in and help the installers. By doing this, Ivan ended up understanding what they were going through, which was helpful when he was bidding on projects. Soft skills like relationship building were also built during this time, as he learned the value of bringing a box of donuts to prison security "so you're not waiting two hours the next day to get in".
While Ivan enjoyed the work, he began traveling a lot and was often away three out of four weeks in a month. One day, before leaving on yet another business trip, his daughter said: "Daddy, don't go away." He made the decision right then and there that a change was needed.
Ivan joined General Dynamics Mission Systems–Canada in February 2015 and has been working in the Tactical Systems Integration Laboratory. The System of Systems team has the mandate to execute integration and system testing on the combined Land Command Support System (LCSS) Engineering and Integration Support Contract (LEISC) system before it is fielded to the Canadian Army.
"It's challenging work because things are always changing. The lab itself is filled with interesting technologies, but also great people. I love the people I work with," says Ivan.
He recalls one instance in the TSIL lab testing a command and control system: "I was basically 'doodling' in the system and found that all of the circles just appeared as a straight line." His immediate thought was to report it as a bug. It turns out it wasn't a bug after all, it was actually a feature. Because these sketches are intended to be transmitted from vehicle to vehicle, you don't want to transmit a lot of data so the system automatically simplifies it.
"It got me thinking, why do we do this kind of stuff? If you think about it, the soldier out there in the field is giving everything they've got and could end up giving their life. If all we're doing is giving them a tool for communications and it helps save them, it's got to work. It's got to be efficient and work perfectly."
Ivan's connection to the soldier on the front lines is what motivates him in his work creating the systems that keep them safe. "That is why we do it."
Working at General Dynamics has afforded Ivan some much needed work-life balance and his wife and young daughters, Jessica and Jillian, are happy to have him around. Even if that means asking him – a systems engineer - questions about "how their Google Home works and then turning around and asking their Google Home the same question". With their curiosity for how things work, the apples may not fall far from the tree.