March is National Engineering Month-Canada's biggest celebration of engineering-and an opportunity to show young Canadians the exciting career opportunities that engineering has to offer. We are proud to employ engineers in Calgary, Ottawa and Halifax. We will be sharing employee profiles throughout the month to show you the challenges that our engineers face every day. Meet Ottawa engineer Michael Chen.
---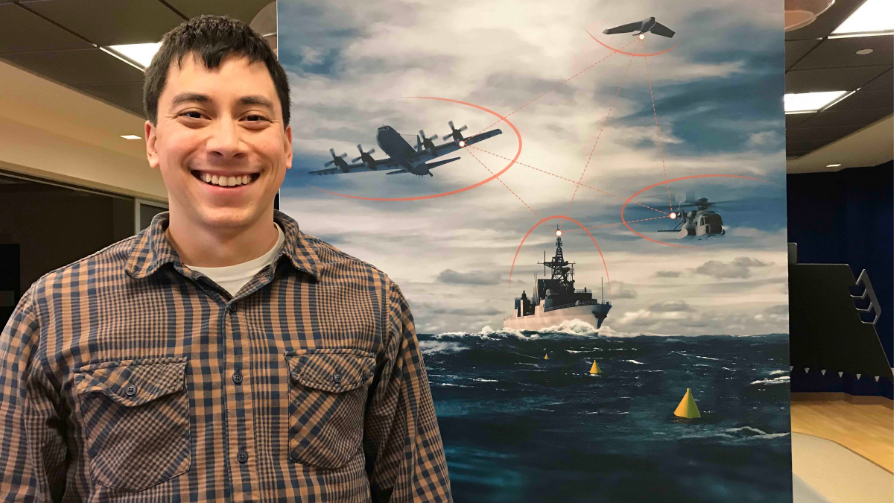 When Michael Chen joined General Dynamics Mission Systems–Canada as a Software Engineer nearly six years ago, he was a Reservist in the Canadian Army. In fact, he had been in the Reserves since high school. It was this background that made General Dynamics an employer of choice.
"Going from somebody who would have used all of this equipment to someone who is making it has been very eye-opening. As the end user, you don't really see how it comes about, you are just handed the equipment," says Michael. "It's kind of neat seeing the other side."
Growing up, Michael always had a knack for computers and excelled in math and sciences so it seemed a natural fit to pursue engineering. He studied Computer Systems Engineering at Carleton University and became the first engineer in his family. Michael joined General Dynamics straight out of university and spent his first five years working on the CP-140 Aurora program, but started working on the Underwater Warfare Suite Upgrade (UWSU) project in October. "It almost feels like an entirely new job."
This project will see Michael and his team providing the Royal Canadian Navy (RCN) with an integrated, multi-sonar capability that will profoundly change the operational capabilities of its Halifax-class frigates. The ships will be able to detect quieter targets at increased ranges, while improved automation will allow sonar operators to improve their underwater warfare performance work and to focus on other priorities.
"We have various systems - hull mounted sonar, towed array sonar, sonobuoy processing – so what we're doing is taking the data from those subsystems and combining it all into something usable for the operator. Because we are getting the raw data, we can apply different tracking algorithms and formulas to get a more accurate representation and determine course and speed based on characteristics that it is receiving."
Michael enjoys the challenge presented with this new role. A different project in a different domain requires different programming languages and code bases. Where the code for Aurora had a lot of history, with UWSU it is newer. "It's a different mindset, less about fitting something into something that already exists and more geared toward making something new."
Michael says his experience in the Reserves – including a deployment to Afghanistan in 2010 - helped with understanding the operating environment a bit better and how the military works. "I have an idea of how an operator might be using our product. A lot of times, they might be wearing gloves, so taking into account how that affects usability on a touchscreen, for example, is important. Little things like that have proven to be useful."
Michael's military experience also keeps him connected to the end user. He says: "It's all about making their lives easier. If you have an acoustic detection at a certain bearing, and as you're sailing it keeps pointing to that area, the system can use a lot of algorithms and parameters to turn all those lines into a signal point. Not having that info might be the difference between hitting and missing a target."
Outside of work, Michael enjoys spending his time outdoors and describes one of his favourite hobbies as "going up mountains". In fact, he recently completed a beginner mountaineering course in Coaticook, Quebec learning all about walking on glaciers, how to stay safe, and what to do if you fall into a crevasse. He says this new knowledge about ropes and knots and equipment really ties into another favourite pastime - rock climbing - where he has been experimenting with top roping and lead climbing.
Working for an organization committed to moving the needle on innovation in the defence industry is another element that keeps Michael engaged in the work he is doing. "Working in an environment with all of these really talented people around you developing these really innovative products for the military to use is very fulfilling. I love that I can see where my work is going, what needs to be done, and how it's being used."
With the recent
UWSU contract win
, General Dynamics is hiring a number of systems and software engineers in Halifax and Ottawa. Check out our career opportunities
here
.