March is National Engineering Month-Canada's biggest celebration of engineering-and an opportunity to show young Canadians the exciting career opportunities that engineering has to offer. We are proud to employ engineers in Calgary, Ottawa and Halifax. We will be sharing employee profiles throughout the month to show you the challenges that our engineers face every day. Meet Calgary engineer Peter Oliver.
---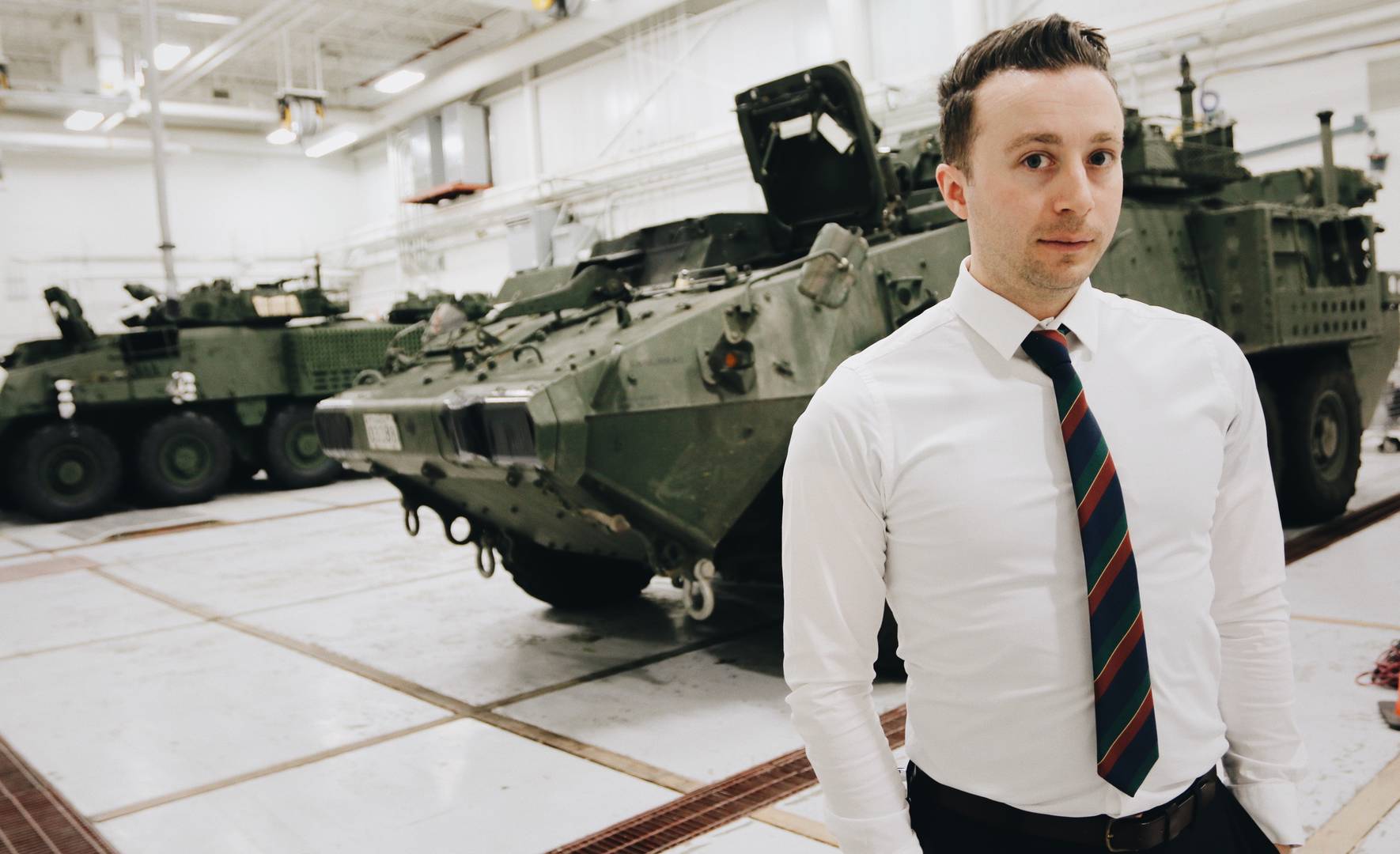 Peter Oliver's career with General Dynamics Mission Systems–Canada began with an internship back in 2003. Born in Toronto, Peter made his way out west to Calgary and when it came time to decide on a field of study, he was intrigued by the excitement of a career in the local technology sector. He graduated with a degree in Computer Engineering from the University of Calgary.
As a co-op student at General Dynamics, Peter provided engineering support for the UK Army's digital modernization project, Bowman. "It's been so long that my role has come full circle and I am now working on the project to actually replace that equipment. While I had a much smaller role back then, this time around I am designing the core hardware," he says.
Peter is currently working on the Evolve to Open (EvO) project, which involves the design and development of a next-generation tactical communication and information system as the initial phase of the UK Ministry of Defence's MORPHEUS program.
"It's a really fast-paced project and one of the first times we've been doing agile development. On this project, we've really hit a stride with the way that firmware and hardware work side by side while developing a product. It's really exciting because it is leading-edge in terms of the computing and networking power it puts into such a small, rugged product," he explains.
Throughout his time at General Dynamics, Peter has worked on a number of projects for the Canadian Armed Forces, including biological and chemical weapons detection systems that were deployed all over the world and the Army's latest network and communications hardware system that has been put into service over the last year.
"There has always been a sense of purpose working in the company. We're developing tools that help these men and women do their jobs better, make better decisions in the field, and stay safe. I believe that more than ever, we are helping with that," Peter explains. He is quick to commend General Dynamics' User Experience - or human factors engineering team – and says "the end result is going to be a much better user experience and a better product that has a lot of good user feedback before it ever gets fielded".
While Peter was once one of the youngest engineers working out of the Calgary office, he says he has traded in his "propeller hat" and is now helping to onboard and mentor junior engineers. "I have been working on empowering other team members to do good design work and to be meaningful contributors to our projects. We are building up a really strong team here."
Outside of work, Peter has been making a name for himself in his local community. In fact, he was recently named one of the city's Top 40 Under 40 by Avenue Magazine, a list that includes local brain surgeons, businesspeople and entrepreneurs with an underlying theme of solid contributions to the local community.
"I was honoured to be recognized this year, not only for my successful engineering career in tech - because engineering in Calgary typically means work in the oil patch or being a geologist - but also for the work I do in the urban part of Calgary called the Beltline," says Peter.
He co-founded a community association a few years ago called the Beltline Neighbourhoods Association. This group has held a series of events including a mural festival and an annual winter bonspiel and has developed a community and arts hub that supports local artists and community groups. The space doubles as an all-ages space for music: "In a lot of cities – Calgary included - it is a challenge because youth can't play music in bars so there was a need for this space."
Peter is also a strong advocate for urban development projects and has been working with community groups to push for bike lanes and rapid transit lines in the city. "Calgary is an exciting place where you can have an impact as a volunteer. You can show up here, have an idea, and if no one else is doing it, a lot of people will step forward and help you."
When he isn't busy working or making a difference in his community, Peter enjoys road biking the mountain roads and foothills with a local club and says it is a good way to enjoy the amazing scenery we have in Alberta.