At General Dynamics Mission Systems–Canada, engineering is at the heart of what we do. We are proud of our engineers' dedication – developing and delivering cutting-edge defence solutions that keep Canadian and allied forces safe.
In recognition of International Women in Engineering Day, we sat down to chat with some of the exceptional female engineers working across our business to learn more about why they chose a career in engineering and what advice they might have for young women considering the same.
Meet Sarah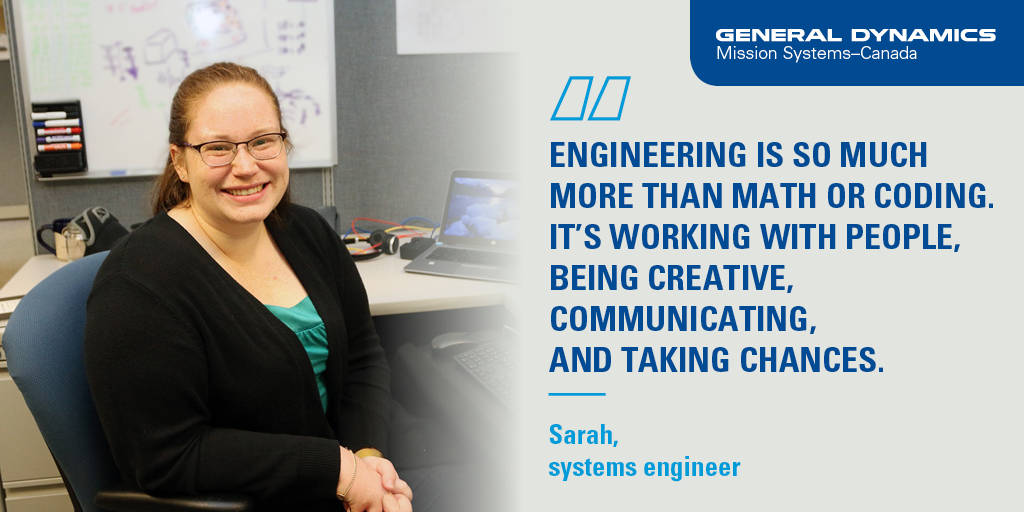 Sarah is a Systems Engineer working on our Evolve to Open (EvO) project in Calgary, which involves the design and development of a next-generation tactical communication and information system as the initial phase of the UK Ministry of Defence's MORPHEUS program.
Sarah's interest in engineering began at a young age when she was introduced to Lego Mindstorms – customizable Lego brick robots that are commanded using the LOGO programming language. After learning how to solder in high school, she decided to pursue her passion further at Carleton University where she studied Computer Systems Engineering.
Sarah thrives off finding creative solutions to new and old problems, so it's no surprise that she has adopted this quote by Adam Savage as her personal mantra: "The difference between messing around and science is writing it down".
What advice does she have for women interested in pursuing a career in engineering? "Engineering is so much more than math or coding. It's working with people, being creative, communicating, and taking chances."
Meet Karen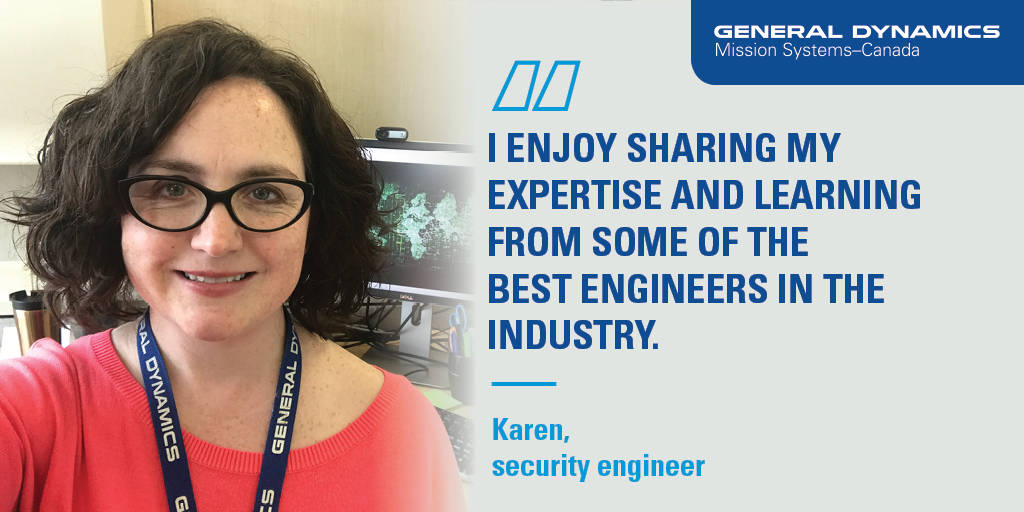 Karen has always been interested in how systems work. She enjoyed writing computer programs as a child, and picked up electronics as a hobby in high school. Her interest in digital systems intensified when she met like-minded people in university and was able to dive deeper into the concepts with the help of university resources.
For Karen, one of the most interesting aspects of digital systems was not just what they could do and how they were used, but how they might be misused. Upon realizing her passion for analyzing and improving digital systems, Karen decided to change her career trajectory. After finishing her Bachelor of Science, she studied pre-engineering at Acadia University and went on to complete a Bachelor's degree in Electrical Engineering at Dalhousie University.
Karen has now been with General Dynamics Mission Systems–Canada for 13 years and works out of our Halifax office. She started as a Software Engineer and is now working as a System Security Engineer and says that she feels like a valuable part of the team in this new role and enjoys applying her skills and passion for engineering secure systems.
Karen's advice for young women considering a career in engineering? "If you think engineering is a possible fit for you, you have already taken an amazing first step! There are so many different ways to do it so don't hold back, find the discipline that fascinates you - it's what you are going to excel at."
Meet Magda
In her role as Product Support Manager, Magda manages a highly skilled team tasked with the execution of maintenance, repair, overhaul and new production of defence systems for land, airborne and maritime applications.
Magda has had a deep fascination with exploring space since she was a little girl which propelled her decision to study Aerospace Engineering at Carleton University.
"Engineering has given me the opportunity to work in several countries exploring, designing and improving products in a variety of industries," she explains.
Magda says that her career with General Dynamics Mission Systems–Canada has afforded her the opportunity to share her passion with like-minded peers that amplify her leadership abilities and encourage her ardent love of problem-solving.
Magda's advice for young women considering a career in engineering? "Engineering is really just exploring the nature of things. Never stop asking questions – stay curious about the world around you."